Download transaction statements (CSV, PDF) and receipts
To download transactions or receipts, you must either Accounting or Admin permissions. Read more about User Roles here.
Download Transaction Statements
Through Emburse Cards, you can download CSV, PDF, OFX files of the transactions on the account. Read more about downloading CSV statements for Intacct and Netsuite.
Download statements by month
Click on the Accounting page
On the right side of the month you want, click on the "Download" button
Select the document type you want to download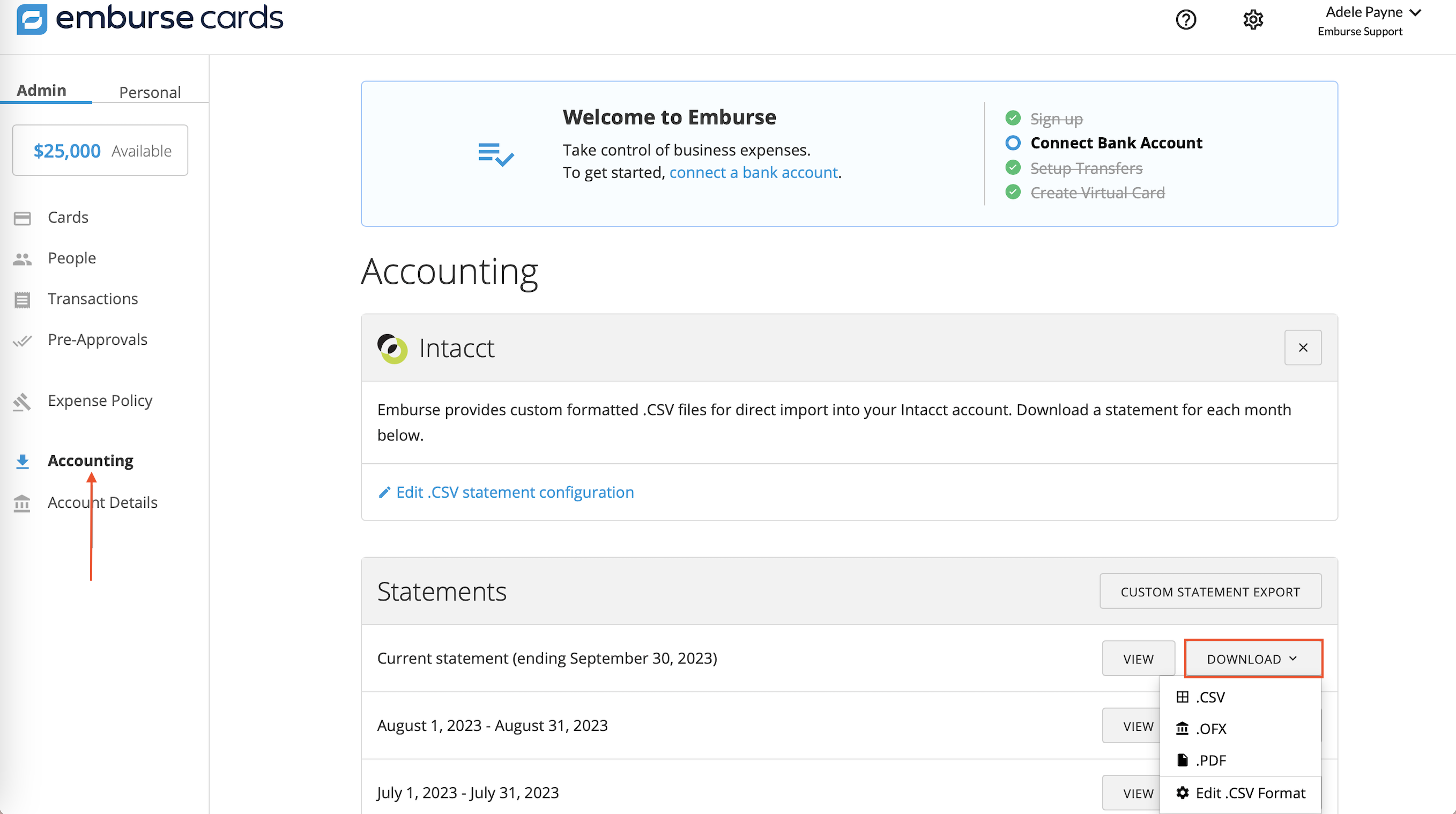 Download statements for a custom date range
Click on the Accounting page
On the right of "Statements", click on "Custom Statement Export"
Enter the start date, end date, and format for the statement
Click on "Download Statement"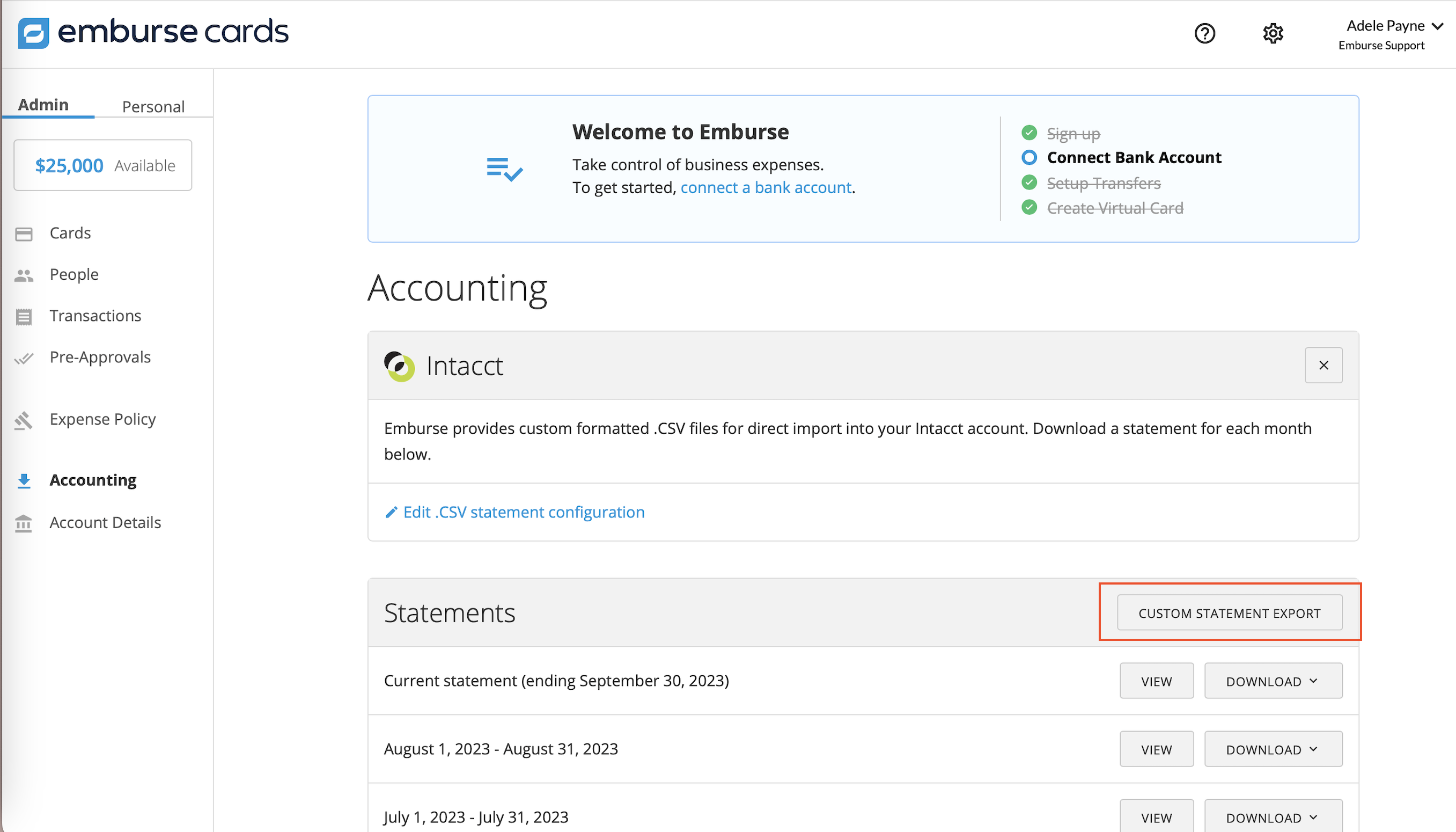 View statements by month
See a PDF of transactions for that month.
Click on the Accounting page
On the right side of the month you want, click on the "View" button
From there you'll be able to view a PDF statement for that month.

Download Receipts
View any receipts related to transactions from a specific month.
1. Click on the Accounting page
2. On the right side of the month you want, click on the "Receipts" button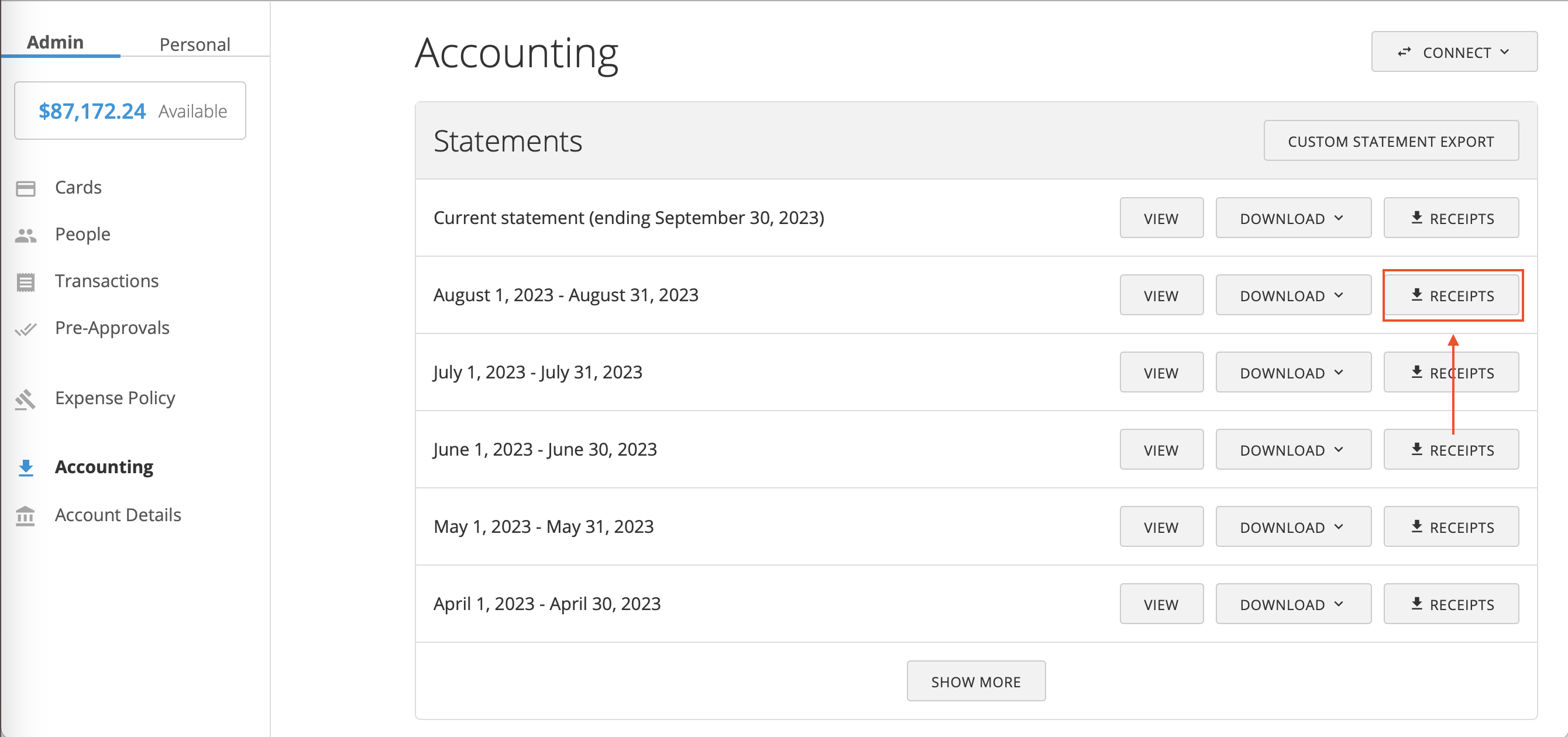 3. This shows a few pieces of information:
the total number of transactions for the selected month
the exact number of receipts submitted
any transactions missing receipts (if a receipt is required via an expense policy)
Click "Download Receipts" for a zip file of all receipts submitted for the given month.

Pending Transactions
Note that pending transactions are not included in any statements. Only transactions that have posted will be on the downloaded statements.
Read more about Pending Transactions here.
About CSV exports
A default CSV export of the transaction statement includes the following information:
Date: When transaction posted
Authorized on: Date of expense
Amount
Balance
Description
Payee: Merchant or Vendor name
Card: Card description and last four digits of the card
Member: User who is assigned the card
Category
Department
Location
Label
Receipt URL
Note
You can also change the default CSV columns by following the instructions here.
Use this information for any expense audits or import into another accounting platform.
If you're using the Emburse Cards Chrome Extension, you can connect your account and automatically sync statements to QuickBooks Online, Xero, NetSuite, or Intacct.
Downloading statements will download all transactions for that date range. If you want to filter the transactions by card, location, or anything else, we recommend filtering the CSV statement for the transactions you need.