What do I put as the description of the card?
Enter a description for any physical or virtual card upon its creation.

Enter in the business name, users name, or phrase that will be printed on the card. At this time, our card stock allows for 1 line for physical cards (40 characters for a virtual card - 21 characters for a physical card). If you're assigning the card to a person, we recommend using the person's first and last name.
Please avoid creating multiple cards with the exact same description when leaving the card unassigned.
On a physical card, the initial description typed into the card is what will be printed and cannot be changed after creation. If you create the card and notice the spelling is incorrect, you will need to cancel the card and create a new one with the correct spelling. You cannot edit the card description after it's been created.
Virtual Cards: The description of card appears on the top of the card, while the business name remains on the card face. The description is the billing name associated with the card.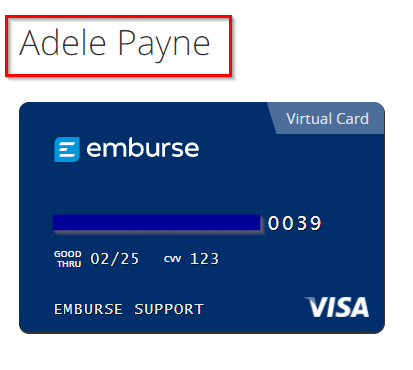 Physical Cards:
On Emburse Cards Dashboard the Card will show two lines, but only what was typed as the description will print on the card, it will not include the company name when the card arrives. In this instance the top line is what will print on the card (Adele Payne), and the bottom line will always be the business name.